BRITISH TRAILBLAZERS MYENERGI CONFIRMED AS 'GLOBAL INNOVATION PARTNER'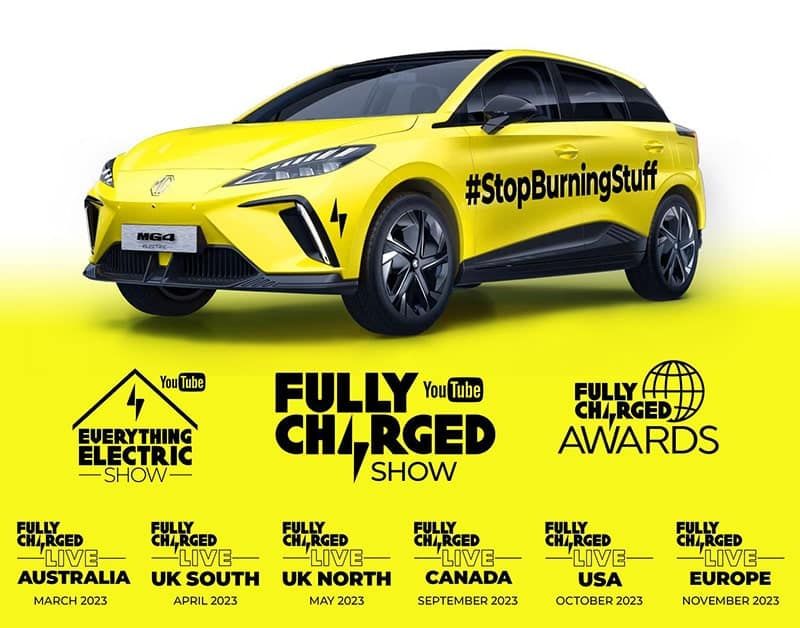 British renewable technology pioneers myenergi is one of several organisations expected to confirm their attendance at all 6 Fully Charged LIVE events this year. With a presence at the events in Australia, UK (South and North), Canada, USA and Europe myenergi is addressing multiple markets in 2023.
In acknowledgment of the strategic relationship between the business and Fully Charged LIVE, myenergi has been invited to be its first Global Partner and joins as Global Innovation Partner for 2023.
As evidenced by sales figures and technological deployment, the Electric Vehicle and Clean Energy sectors continue to experience rapid growth despite global headwinds. Fully Charged LIVE's global event programme offers businesses the opportunity to launch to energy savvy, EV-ready buyers in multiple markets.
In 2023, the Fully Charged LIVE team is targeting a combined total of more than 100,000 attendees across the 6 events in Sydney, Farnborough, Harrogate, Vancouver, San Diego and Amsterdam. Furthermore a 7th event is due to be added for 2024, and November 2023 will see the first Fully Charged AWARDS held in Europe.
The full line-up of events is as follows:
Fully Charged LIVE Australia – 11th & 12th March 2023, ICC Sydney
Fully Charged LIVE UK South – 28th, 29th & 30th April 2023, Farnborough International
Fully Charged LIVE UK North – 19th, 20th & 21st May 2023, Yorkshire Event Centre
Fully Charged LIVE Canada – 8th, 9th & 10th September 2023, Vancouver Convention Centre
Fully Charged LIVE USA – 27th, 28th & 29th October 2023, Del Mar Fairgrounds, San Diego
Fully Charged LIVE Europe – 24th, 25th & 26th November 2023, RAI Amsterdam
Since the first event in 2018 at Silverstone, myenergi has exhibited at each UK event with enormous success, as well as participating in the European and North American shows.
Founded in 2016, myenergi was recently ranked as the ninth fastest-growing private company in the UK by The Sunday Times, with its joint founder and CMO, Jordan Brompton, named as the 2022 Great British Entrepreneur of the Year.
The myenergi product portfolio includes the multi award-winning zappi EV charger that takes power from the grid, solar or wind, and the hotly anticipated libbi modular home battery system announced late last year.
CEO, Dan Caesar had this to say:
"We have worked closely with myenergi over the last 6 years, and we are delighted to further strengthen our relationship with their confirmation as Fully Charged LIVE's first 'global partner'. Their commitment to support all 6 of our LIVE shows in 2023 is testament to the success of the events and also the innovative vision of their organisation. With plans to take its business into further global markets we know Fully Charged LIVE offers myenergi the perfect platform to reach thousands of new potential customers."
Jordan Brompton, joint founder & CMO at myenergi, added
"While we remain proudly UK-based, myenergi has established an incredibly successful export business, supplying our products to Australia, Germany, Ireland and the Benelux region, with our sights on other fast-growth markets. To that end, it makes absolute sense to partner with Fully Charged LIVE on a global basis for all six events this year. We have always admired what Fully Charged is aiming to do, as our mission to pioneer a simple transition to renewable energy is completely aligned, with a shared ambition to support the switch to renewable energy, electric vehicles and eco-smart homes."