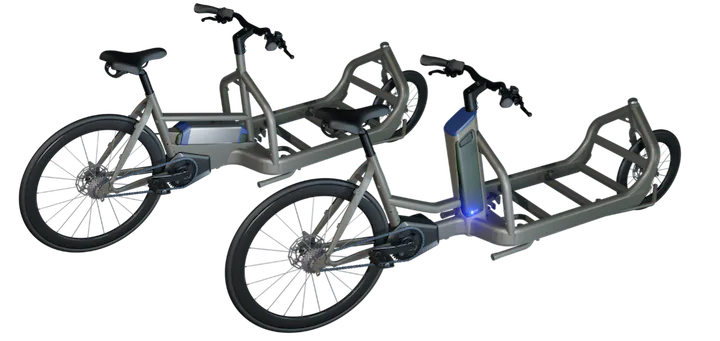 CLEANTRON & VROEGH DESIGN
Cleantron is a leading producer of Li-ion Battery Modules for industries like mobility and e-bikes. VROEGH Design (VD) is a globally active design & engineering consultancy that can help you building the future of e-mobility. Cleantron and VD form a strong team, both based in the Netherlands, creating advanced smart solutions for light electric mobility.
48V CLP swappable Cargo-bike battery module
The Compact Light Portable (CLP) Battery is especially suitable for future proof Family and Cargo bikes. Compliant with the new upcoming EU legislation, its low weight (9Kg for 1,7 KWh rated capacity) and its unique intuitive blind mating allowing a single-handed battery swap, it comes with a docking station and optional charging cabinet for safe charging.
36V Circular e-bike battery
The Cleantron Circular is the world first e-bike battery that can be repaired efficiently and without compromising on quality & safety. Combined with Sales by Subscription, Cleantron can offer a 10 year warranty, making it the most sustainable e-bike battery in the world. The Circular battery is designed for city bikes as well as light cargo / family bikes. It is available as in-tube as well as on-tube variants.
News
Cleantron Circular e-Bike battery is being developed in collaboration with VROEGH Design, a specialist in the design of micro-mobility.