18 Oct 2023
Roland Werk presents new motorized bicycle trailer PAXXTER e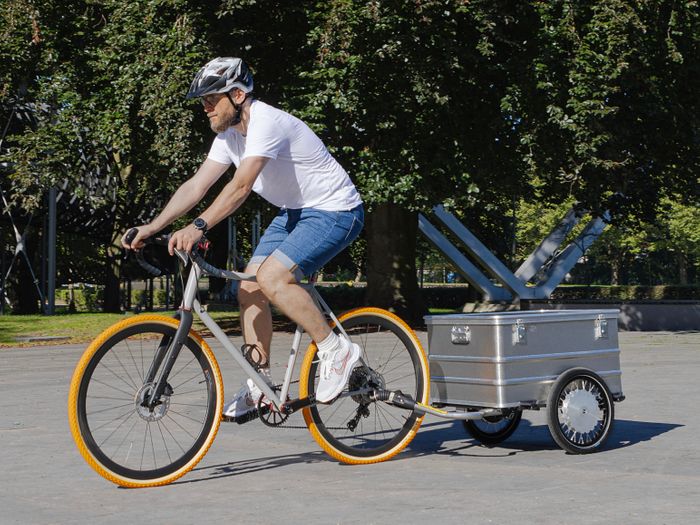 "Your cargo, our drive"
With the aim of offering bicycle users the possibilities of using a cargo bike when transporting loads and also maintaining the flexibility of a classic bicycle, Roland Werk GmbH has started the development of its new electric bicycle trailer PAXXTER e.
At the end of this development process, the electrified brother is now available in addition to the classic PAXXTER bicycle trailer. Its drive works with two powerful 125W hub motors in the spoked wheels of its axle, which receive their energy from a battery in the frame of the trailer. This interaction ensures that the transport of loads is just as easy as classic bicycle riding and that the range of the system is also increased.
With the activation of the drive on the PAXXTER e, transporting loads behind the bike becomes child's play. Depending on your personal requirements and with a view to the current payload, the motor support can be set in 3 different riding modes.
The pedal sensor, which is connected via Bluetooth and its integrated sensors, transmits the necessary impulses to the drive. The simple mounting of the sensor allows the trailer to be quickly changed between different bikes.
The electric trailer takes over the versatility in application and the advantages from its brother PAXXTER according to the motto "from transport box to bicycle trailer", because it can be stored compactly in the 156-litre box and, if necessary, there is the option of using the trailer alone or fixing the transport box from it. The very light trailer base consists of a powder-coated aluminium frame. Without using the box, the milling points of the base plate allow countless fixation points, and when using the clamped box, the watertight transport of the packages.
Specialist dealers and end customers can now purchase the PAXXTER e.
Extensive testing opportunities will be offered, among other things, as part of the International Cargo Bike Festival from 24.-26.11.2023 in Amsterdam.
Contact:
Mirco Kühling; contact@roland-werk.de, +49 (0) 4474 – 94830
Roland Werk GmbH operates as a medium-sized family business based in Garrel, Lower Saxony, with business activities focusing on the development, production and sale of spoked wheels and bicycle trailers. This combines production in the contract business or in-house production and marketing under the ROLAND brand. All manufactured products are based on an interplay of modern production processes, state-of-the-art technology and the use of motivated and experienced employees.
https://youtu.be/dIn2AWjpd9g